Description
The Plansee is located in the district of Reutte, Tyrol, Austria within the Ammergau Alps. With almost 3 km², it is the second largest natural lake in Tyrol.
It is connected by a 300 m long canal with the approximately 68 cm higher located Lake Heiterwanger, from which it draws, next to the other tributaries Spießbach and Torsäulenbach, its water.
In the northwest, the Plansee has an outflow through the so-called Small Plansee and the Archbach to the Lech.
Plansee and Heiterwanger See are probably remnants of a glacial meltwater reservoir, which once covered the entire area up to the Ehrwald basin.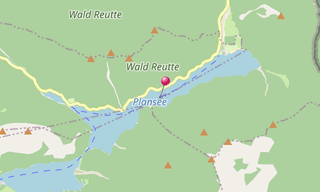 ★ Open the Google Maps link in a new window at the location: Plansee (Tyrol)
Photo gallery
7 Photos
Click on a picture to view it in full screen mode.
Display captions on images: