Description
The Höllental (Hell Valley) is a valley in the Zugspitze massif of the Wetterstein mountains, between Blassenkamm and Waxensteinkamm through which the stream Hammersbach flows and runs a well-known ascent of the Zugspitze. …
See more …

From the district of Hammersbach in Grainau, a footpath leads over 3 km and about 300 m by an increasingly narrow shrinking valley to the Höllentalklamm entrance hut and the path through the gorge. Starting at the Höllentalklamm entrance hut, the trail extends over some 700 m through the impressive gorge. The outside of the gorge rather inconspicuous Hammerbach swells in the very 2 to 5 m narrow and 150 m high gorge to a raging torrent. The touristic development of the gorge began in 1902 under the direction of the engineer Adolf Zoeppritz and some local mountain guide.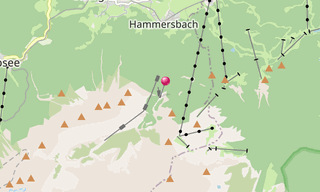 ★ Open the Google Maps link in a new window at the location: Höllental Gorge
Photo gallery
47 Photos
Click on a picture to view it in full screen mode.
Display captions on images: