Description
The Glyptothek is a museum in Munich, Germany, which was commissioned by the Bavarian King Ludwig I to house his collection of Greek and Roman sculptures.
It was designed by Leo von Klenze in the neoclassical style, and built from 1816 to 1830. Today the museum is a part of the Kunstareal.
The layout of the Königsplatz complex was designed by the architects Karl von Fischer and Leo von Klenze in 1815. Colourful frescoes and stuccos made by distinguished artists such as Peter von Cornelius, Clemens von Zimmermann, and Wilhelm von Kaulbach adorned the walls of the museum.
Show the remaining text …

The Second World War did not destroy much of the artwork in the Glyptothek; but unfortunately the frescoes did not survive and only lightly plastered bricks were visible after the museum was reopened in 1972.

The Glyptothek contains sculptures dating from the archaic age (ca. 650 BC) to the Roman era (ca. 550 AD):

Archaic period (700 - 490 BC).
Classical period (490 - 323 BC).
Hellenistic period (323 - 146 BC).
Roman period (150 BC - 550 AD).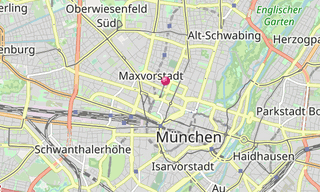 ★ Open the Google Maps link in a new window at the location: Glyptothek (Munich)
Photo gallery
90 Photos
Page 1 of 2 / Photos 1 to 60
Click on a picture to view it in full screen mode.
Display captions on images:
★ Don't miss: Most beautiful photos of Germany