Description
The Munich Residence (Münchner Residenz) is the former royal palace of the Bavarian monarchs of the House of Wittelsbach in the centre of the city of Munich.
The Residenz is the largest city palace in Germany. The complex of buildings contains ten courtyards and displays 130 rooms. The three main parts are the Königsbau (near the Max-Joseph-Platz), the Alte Residenz (Old Residenz; towards the Residenzstraße) and the Festsaalbau (towards the Hofgarten).
A wing of the Festsaalbau contains the Cuvilliés Theatre. It also houses the Herkulessaal (Hercules Hall).
Show the remaining text …

The Byzantine Court Church of All Saints (Allerheiligen-Hofkirche) at the east side is facing the Marstall, the building for the former Court Riding School and the royal stables.

The Hall of Antiquities (Antiquarium), built between 1568 and 1571 for the antique collection of Duke Albert V (1550 - 1579) by Wilhelm Egkl and Jacobo Strada, is the largest Renaissance hall north of the Alps.

The Elector of Bavaria Maximilian III Joseph ordered the construction of a new theatre outside the palace after a fire in the St George's Hall of the Residence which had served previously as a theatre room.

It was built from 1751 to 1753 by François de Cuvilliés in rococo style. The carving was done under supervision of Johann Baptist Straub.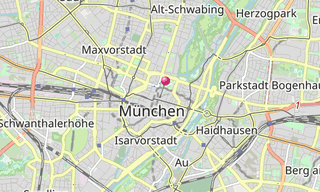 ★ Open the Google Maps link in a new window at the location: Residence (Munich)
Photo gallery
96 Photos
Page 1 of 2 / Photos 1 to 60
Click on a picture to view it in full screen mode.
Display captions on images:
★ Don't miss: Most beautiful photos of Germany