Description
The Maxhütte, named after the Bavarian King Maximilian II Joseph, was a traditional steel mill and is today an industrial monument in Sulzbach-Rosenberg.
In its heyday, the Maxhütte employed over 9000 people. The company had branches in Maxhütte-Haidhof and Unterwellenborn (now Stahlwerk Thüringen GmbH) and own mines in Sulzbach-Rosenberg (Annaschacht until 1974, Grube Eichelberg until 1977) and Auerbach (Maffei until 1978, Leonie until 1987).
The Maxhütte was the last steel plant in Bavaria with a conventional blast furnace. It was known in the labor movement for the decades-long struggle of the workforce for their jobs.
Show the remaining text …

Through property participation of Bavaria, the Maxhütte was also a political issue. After two bankruptcies, the steel production was finally stopped the 24 September 2002.

For the rural region of the central Upper Palatinate, the two bankruptcies of the Maxhütte were structural disasters with the associated loss of thousands of jobs.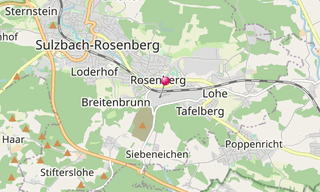 ★ Open the Google Maps link in a new window at the location: Maxhütte (Sulzbach-Rosenberg)
Photo gallery
226 Photos
Page 1 of 4 / Photos 1 to 60
Click on a picture to view it in full screen mode.
Display captions on images:
★ Don't miss: Most beautiful photos of Germany