Description
Kallmünz is a town in the Upper Palatinate district of Regensburg in Bavaria. The town is located at the confluence of Naab and Vils, about 25 km north and upstream of Regensburg on an ancient trade route to the east.
Due to its location, the town is called "Pearl of the Naab valley". The mountains of the Bavarian Forest begin 12 km east. Kallmünz was first mentioned in writing in a document of Bishop Wolfgang in 983.
On a ledge of the "Schlossberg" are the ruins of the old castle of Kallmünz. The ruins of a spur castle, with the remains of an extensive plant originating from Celtic times, shows a section of wall from the early Middle Ages (to 900), the so-called Hungarian Wall. He served the surrounding population as a retreat point during the Hungarian invasions.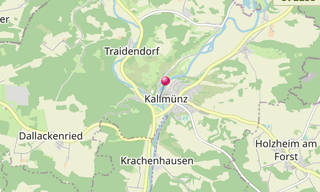 ★ Open the Google Maps link in a new window at the location: Kallmünz