Description
Lüftlmalerei referred in particular in Upper Bavaria (Werdenfelser Land by Garmisch-Partenkirchen) and in Tirol to the native art form of facade painting. …
See more …

The Lüftlmalerei is a popular variant of the trompe l'œil from the Baroque era, and imitates architectural elements. These paintings are applied in a fresco technique on fresh lime plaster, the colors silicify in a chemical reaction with the plaster allowing them to last longer. The origin probably comes from the home of house facade painter Franz Seraph Zwinck (1748 - 1792) from Oberammergau, "Zum Lüftl".

Mittenwald

Mittenwald is a municipality in the Upper Bavarian district of Garmisch-Partenkirchen and is located in the upper Isar valley, about 100 km south of Munich between the Karwendel and Wetterstein Mountains, almost directly on the border with Austria. Mittenwald is one of the highlights of Lüftlmalerei. The best-known representative of this art in Mittenwald was Matthäus Günther (1705 - 1788), one of the leading rococo painters in Germany and one of the earliest representatives of Lüftlmalerei. Another well-known artist from Mittenwald was Franz Karner (1737 - 1817). Particularly interesting examples of historic Lüftlmalerei in Mittenwald are: The bell tower of the parish church of St. Peter and Paul, Neunerhaus, Gasthof zur Alpenrose, Geigenbaumuseum, Hornsteinerhaus, Hoglhaus and Schlipferhaus.

Oberammergau

Oberammergau is a municipality in the Upper Bavarian district of Garmisch-Partenkirchen. It is located in the Ammertal valley beside the river Ammer. The Kofel mountain overlooks the village. Oberammergau is famous for its every ten-yearly Passion Play, as well as the local artisans "Herrgottschnitzer" and the houses adorned with Lüftlmalerei. Featured examples of Baroque painting include the facades of the Forsthaus, of the Mußldomahaus and of the Pilatushaus.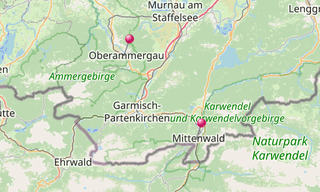 ★ Open the Google Maps link in a new window at the location: Oberammergau, Mittenwald
Photo gallery
208 Photos
Page 1 of 4 / Photos 1 to 60
Click on a picture to view it in full screen mode.
Display captions on images:
★ Don't miss: Most beautiful photos of Germany