Description
The State Museum of Egyptian Art (Staatliche Museum Ägyptischer Kunst) in Munich is the most important in Germany after the collections in Berlin (Egyptian Museum) and in Hildesheim (Roemer and Pelizaeus Museum).
It displays exhibits from all eras of ancient Egypt to the Coptic (Christian) time, and some exhibits from neighboring cultures in Nubia, Assyria and Babylonia.
It is located in the Munich Art Quarter in a building by the architect Peter Böhm.
The collection dates to several Bavarian rulers, among others of Duke Albrecht V of the second half of the 16th century, the Elector Karl Theodor and Crown Prince Ludwig I (first in the "Egyptian Room" of the Glyptothek). The Royal Bavarian Academy of Sciences acquired further objects in the 19th century.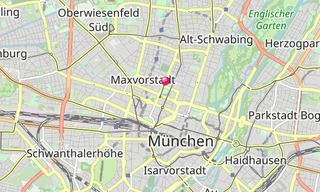 ★ Open the Google Maps link in a new window at the location: Staatliches Museum Ägyptischer Kunst (Munich)
Photo gallery
108 Photos
Page 1 of 2 / Photos 1 to 60
Click on a picture to view it in full screen mode.
Display captions on images:
★ Don't miss: Most beautiful photos of Germany