Description
Other sites in Vietnam:
Long Xuyên
Long Xuyên is the provincial city and capital city of An Giang Province, in the Mekong Delta region of south-western Vietnam. It is located at approximately 1,950 km south of Hanoi, 189 km from Ho Chi Minh City, and 45 km from the Cambodian border.
Thien Mu Pagoda
The Pagoda of the Celestial Lady (Vietnamese: Chùa Thiên Mụ) also called Linh Mụ Pagoda, is a historic temple in the city of Huế in Vietnam.
Its iconic seven-storey pagoda is regarded as the unofficial symbol of the city. The pagoda sits on the Hà Khê hill, in the ward of Hương Long in Huế.
It is around 3 km from the Citadel of Huế constructed by the Nguyễn Dynasty and sits on the northern bank of the Perfume River.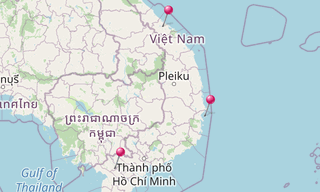 ★ Open the Google Maps link in a new window at the location: Thien Mu Pagoda, Whale Island, Long Xuyên