Description
The Imperial City is a walled palace within the citadel of the city of Huế, the former imperial capital of Vietnam. The building was built in 1362, and took 203 years to complete.
In June 1789 Nguyễn Ánh took control of Vietnam and proclaimed himself Emperor Gia Long. His rule was recognized by China in 1804.
Gia Long consulted with geomancers to decide which was the best place for a new palace and citadel to be built. After the geomancers had decided on a suitable site in Huế, building began in 1804.
Thousands of workers were ordered to produce a wall and moat, 10 km long. Initially the walls were earthen, but later these earthen walls were replaced by stone walls, 2 m thick.
Show the remaining text …

The citadel was oriented to face the Huong River to the east. This was different from the Forbidden City in Beijing, which faces south.

The Emperor's palace is on the east side of the citadel, nearest the river. A second set of tall walls and a second moat was constructed around the Emperor's palace.

Many more palaces and gates and courtyards and gardens were subsequently added. The reigns of the last Vietnamese Emperors lasted until the mid-1900s.

At the time, the Purple Forbidden City had many buildings and hundreds of rooms. It suffered from termite and cyclone damage, but was still very impressive.

Many bullet holes left over from the Vietnam War can be observed on the stone walls.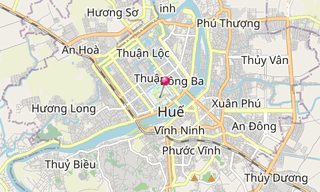 ★ Open the Google Maps link in a new window at the location: Huế