Description
The town of Gyantse is strategically located in the Nyang Chu valley on the ancient trade routes from the Chumbi Valley, Yatung and Sikkim, which met here.
From Gyantse, routes led to Shigatse downstream and also over the Karo La (Pass) to Central Tibet. The fortress (constructed in 1390) guarded the southern approaches to the Yarlung Tsangpo Valley and Lhasa.
The town was surrounded by a wall 3 km long.
The Palcho Monastery or Pelkor Chode Monastery or Shekar Gyantse is the main monastery in the Nyangchu river valley in Gyantse. The monastery precinct is a complex of structures which, apart from the Tsuklakhang Monastery, also includes its Kumbum, believed to be the largest such structure in Tibet, that is most notable for its 108 chapels in its several floors and the old Dzong or fort.
Show the remaining text …

The original fortress, known as Gyel-khar-tse was attributed to Pelkhor-tsen, son of the anti-Buddhist king Langdharma, who probably reigned from 838 to 841.

The present walls were supposedly built in 1268, after the rise in power of the Sakyapa sect. A large palace was built in 1365 by a local prince, Phakpa Pelzangpo (1318–1370), who had found favour campaigning for the Sakyapas in the south.

He also brought a famous Buddhist teacher, Buton Rinchendrub of Zhalu, to live in a temple there.

Later in the 14th century Phakpa Pelzangpo's son, Kungpa Phakpa (1357–1412), expanded the Gyantse complex and moved the royal residence here from the palace and fort his father had built at the entrance to the Gyantse valley.

He also built Samphel Rinchenling, the first hilltop temple, beside the castle. Although the walls are mostly ruined, they still contain some 14th century murals in Newari style as well as in the Gyantse style which grew from it.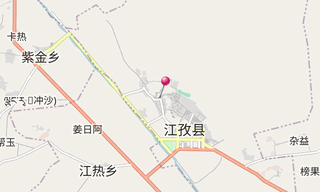 ★ Open the Google Maps link in a new window at the location: Gyantse