Description
Lhasa is a city and administrative capital of the Tibet Autonomous Region. …
See more …

Lhasa is the second most populous city on the Tibetan Plateau after Xining and, at an altitude of 3,490 m, Lhasa is one of the highest cities in the world. The city has been the religious and administrative capital of Tibet since the mid-17th century. It contains many culturally significant Tibetan Buddhist sites such as the Potala Palace, Jokhang Temple and Norbulingka Palaces.

Potala Palace

The Potala Palace was the residence of the Dalai Lama until the 14th Dalai Lama fled to India during the 1959 Tibetan uprising. The palace is named after Mount Potalaka, the mythical abode of the bodhisattva Avalokiteśvara. The 5th Dalai Lama started its construction in 1645 after one of his spiritual advisers, Konchog Chophel (died 1646), pointed out that the site was ideal as a seat of government, situated as it is between Drepung and Sera monasteries and the old city of Lhasa.

The building measures 400 m east-west and 350 m north-south, with sloping stone walls averaging 3 m thick, and 5 m thick at the base, and with copper poured into the foundations to help proof it against earthquakes. Thirteen stories of buildings (containing over 1,000 rooms, 10,000 shrines and about 200,000 statues) soar 117 m on top of Marpo Ri, the "Red Hill", rising more than 300 m in total above the valley floor.

Jokhang Temple

The Jokhang, also known as the Qoikang Monastery, Jokang, Jokhang Temple, Jokhang Monastery and Zuglagkang, is a Buddhist temple in Barkhor Square in Lhasa. Tibetans, in general, consider this temple as the most sacred and important temple in Tibet. The temple is currently maintained by the Gelug school, but they accept worshipers from all sects of Buddhism. The temple's architectural style is a mixture of Indian vihara design, Tibetan and Nepalese design.

The Jokhang was founded during the reign of King Songtsen Gampo. According to tradition, the temple was built for the king's two brides: Princess Wencheng of the Chinese Tang dynasty and Princess Bhrikuti of Nepal. Both are said to have brought important Buddhist statues and images from China and Nepal to Tibet, which were housed here, as part of their dowries. The oldest part of the temple was built in 652. Over the next 900 years, the temple was enlarged several times with the last renovation done in 1610 by the 5th Dalai Lama. Following the death of Gampo, the Buddha in Ramcho Lake temple was moved to the Jokhang temple for security reasons. When King Tresang Detsan ruled from 755 to 797, the Buddha image of the Jokhang temple was hidden, as the king's minister was hostile to the spread of Buddhism in Tibet. During the late ninth and early tenth centuries, the Jokhang and Ramoche temples were said to have been used as stables. In 1049 Atisha, a renowned teacher of Buddhism from Bengal taught in Jokhang.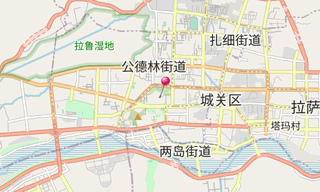 ★ Open the Google Maps link in a new window at the location: Lhasa