Description
The Zugspitze with 2,962 m is the highest peak of the Wetterstein Mountains and at the same time Germany's highest mountain. The Zugspitze massif is located southwest of Garmisch-Partenkirchen in Bavaria and in the north of Tyrol.
The border between Germany and Austria runs over its western summit. To the south of the mountain is the Zugspitzplatt, a karst plateau with numerous caves.
On the flanks of the Zugspitze there are three of the five Bavarian glaciers: the Northern and Southern Schneerner, both of which are endangered, and the Höllentalferner.
Show the remaining text …

The first certified ascent of the Zugspitze was achieved in 1820 by the surveying engineer and at that time lieutenant of the Bavarian army, Josef Naus, his measuring assistant Maier and the mountain guide Johann Georg Tauschl.

Today there are three normal routes to the summit: from the northeast of the Höllental, from the southeast of the Reintal and from the west via the Austrian Schneekar.

With the Jubiläumsgrat, leads one of the best-known ridge routes in the Eastern Alps to the Zugspitze.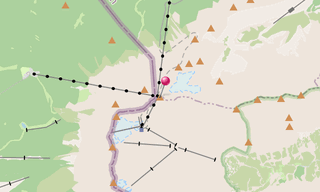 ★ Open the Google Maps link in a new window at the location: Zugspitze