Description
The Hopfensee is a maximum 2.1 km long lake with a circumference of 6.8 km north of Füssen in the district of Ostallgäu, Bavarian Swabia, Bavaria.
With its total area of 184 hectares, it belongs to the city of Füssen, but borders on the west bank to the municipality of Hopferau.
The flat and unlayered pre-Alps lake with a maximum water depth of 10.4 m was formed by the Lechtal Glacier during the ice age. It drains to the south over the Hopfensee-Ach, which flows into the Forggensee after a kink to the east.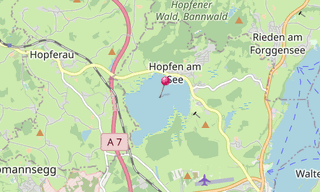 ★ Open the Google Maps link in a new window at the location: Hopfensee