Description
The English Garden (Englische Garten) is a 375 hectare green park in the north east of Munich, on the west bank of the River Isar, making it one of the largest parks in the world. …
See more …

The name derives from the English landscape gardens, which were used as models by Friedrich Ludwig von Sckell in the design of the site. The Munich English Garden was one of the first large continental European parks, which could be entered by everyone.

When the Bavarian Elector died childless in 1777, the country fell to the Palatine Elector Carl Theodor. On the 13th of August, 1789, the date is commonly regarded as the actual foundation day of the English Garden in its present form, Carl Theodor ordered the area east of the military gardens to be converted into a national park. It was the first plant of its kind in Europe. The execution was transferred to the gardener of the Schwetzinger court Friedrich Ludwig von Sckell, the supervisor retained Benjamin Thompson.

At the southern end of the Englischer Garten the Schwabinger-Bach and the Eisbach enter the park, unite and flow again separately. From the Eisbach the Oberstjägermeisterbach branches off, so that a large part of the Englischer Garten is crossed by three streams running in parallel.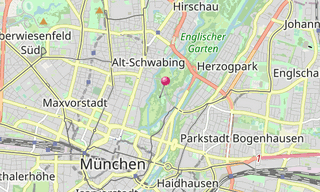 ★ Open the Google Maps link in a new window at the location: English Garden (Munich)