Description
The open-air museum Glentleiten is the museum of the district Upper Bavaria for the rural life, living and economics of past centuries. …
See more …

It is located above Großweil in the Upper Bavarian Voralpenland between Murnau and the Kochelsee. The museum was opened in 1976 with 13 exhibit buildings.

In the extensive museum area around 60 historic buildings from rural areas of Upper Bavaria have been rebuilt on 38 ha, including next to larger farms and craftsmen and peasant farmers, in which more than half of the population lived in the 18th and 19th century. Another focus is on peasant technology such as whetstone making, mills, saws and blacksmiths. In addition, several alpine buildings have been built.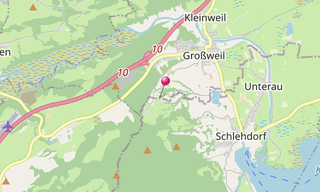 ★ Open the Google Maps link in a new window at the location: Open-air museum Glentleiten
Photo gallery
110 Photos
Page 1 of 2 / Photos 1 to 60
Click on a picture to view it in full screen mode.
Display captions on images:
★ Don't miss: Most beautiful photos of Germany