Description
Slochteren is a municipality in the north-eastern Netherlands, characterised as a chain of small villages dividing a mostly agricultural landscape. …
See more …

Having an agricultural background for at least a thousand years, the community houses for the most part commuters to nearby towns like Hoogezand, Groningen and Delfzijl. The mansion Fraeylemaborg (a small "castle", the oldest parts of which are dated in the Middle Ages) is located in Slochteren.

Fraeylemaborg is the most important of the borgen in the province of Groningen. These strong houses or keeps were built in the Middle Ages to store harvests and to protect their produce from robbers. Besides churches, these structures were the only buildings that used durable stone and masonry. In due time they grew to become centres of power and wealth.

In 1475 there was already a farm with the name Frealemaheerd. The building originates from the 16th century. The left wing was built in the 17th century. In 1781 the Fraeylemaborg was sold to Hendrik de Sandra Veldman. He rebuilt it into the shape it has today. Among his innovations was the removal of two towers which had graced the front square.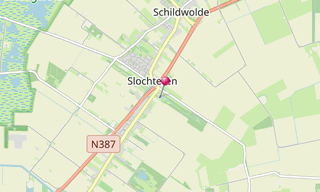 ★ Open the Google Maps link in a new window at the location: Mansion Fraeylemaborg