Description
Hạ Long Bay features thousands of limestone karsts and isles in various shapes and sizes. Hạ Long Bay is a center of a larger zone which includes Bái Tử Long Bay to the northeast, and Cát Bà Island to the southwest. Hạ Long Bay has an area of around 1,553 km², including 1,960 – 2,000 islets, most of which are limestone. The core of the bay has an area of 334 km² with a high density of 775 islets. The limestone in this bay has gone through 500 million years of formation in different conditions and environments. The evolution of the karst in this bay has taken 20 million years under the impact of the tropical wet climate.
Historical research surveys have shown the presence of prehistorical human beings in this area tens of thousands years ago. The successive ancient cultures are the Soi Nhụ culture around 18000 – 7000 BC, the Cái Bèo culture 7000 – 5000 BC and the Hạ Long culture 5000 – 3500 years ago. Hạ Long Bay also marked important events in the history of Vietnam with many artifacts found in Bài Thơ Mount, Đầu Gỗ Cave, Bãi Cháy.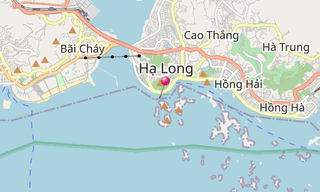 ★ Open the Google Maps link in a new window at the location: Hạ Long Bay
Photo gallery
22 photos
Click on a picture to view it in full screen mode.
★ Don't miss: Most beautiful photos of Asia (Middle format)