Description
Located in the heart of Alsace 60 km south of Strasbourg on the La Lauch River, Colmar is the capital of the Alsatian wines. With an average annual precipitation of 530 mm, it is one of the driest cities in France.
The sculptor Frédéric-Auguste Bartholdi was born in Colmar in 1834 where he studied architecture. He is best known for the Statue of Liberty.
Main sights
Petite Venise (Little Venice): With its picturesque colourful houses built on both sides of the La Lauch River, the "Little Venice" is one of the most charming quarters of Colmar.
Show the remaining text …

Ancienne Douane (Koïfhus / Old Customs House): Completed around 1480, the Koïfhus was used both as a warehouse for merchandise and a customs centre.
Maison des Têtes (Kopfhus / Head House): Built in 1609 for the merchant Antonius Burger, this gothic / renaissance building is decorated with 111 masks or heads.
Maison Pfister (Pfister House): This house made of stone and wood was built in 1537 by Ludwig Scherer and has a typical mediaeval design.
Collégiale Saint-Martin: The Collégiale Saint-Martin (13th-16th centuries) is the largest church in Colmar.
Église des Dominicains (Dominicain Church): The Madonna of the Roses (Vierge au Buisson de Roses) is considered as Martin Schongauer's masterpiece and is housed in this church.
Musée Unterlinden (Unterlinden Museum): Considered as one of Matthias Grünewald greatest works, the Isenheim Altarpiece painted in the year 1515 for the Monastery of St Anthony, is one of the most noteworthy treasures housed in the Unterlinden Museum.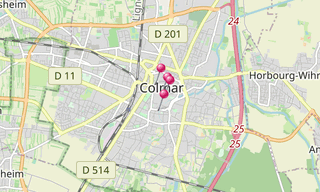 ★ Open the Google Maps link in a new window at the location: Maison des Tetes, Maison Pfister, Ancienne Douane, Petite Venise
Photo gallery
136 Photos
Page 1 of 3 / Photos 1 to 60
Click on a picture to view it in full screen mode.
Display captions on images:
★ Don't miss: Most beautiful photos of France