Description
The Iles du Salut (Salvation Islands) are a group of small islands of volcanic origin about 11 km from the coast of French Guiana (14 km north of Kourou) in the Atlantic Ocean.
The Ile du Diable is better known to English speakers as Devil's Island. The total area is 0.62 km². The Ile du Diable and the Ile Royale are separated by the Passe des Grenadines, the Ile Royale and the Ile St-Joseph by the Passe de Désirade.
The islands were used as a penal colony from 1852 onwards, earning them a reputation for harshness and brutality. This system was gradually phased out and has been completely shut down since 1953.
The islands were featured in the novel by Henri Charrière, Papillon. He was imprisoned here for 9 years.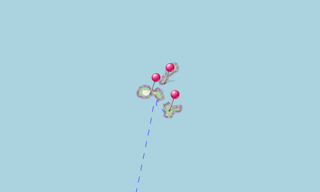 ★ Open the Google Maps link in a new window at the location: Devil's Island, Royale Island, Saint-Joseph Island
Photo gallery
168 Photos
Page 1 of 3 / Photos 1 to 60
Click on a picture to view it in full screen mode.
Display captions on images:
★ Don't miss: Most beautiful photos of America