Description
The Nymphenburg Palace (Schloss Nymphenburg) is a Baroque palace in Munich. …
See more …

The palace was the main summer residence of the rulers of Bavaria. The palace was commissioned by the prince-electoral couple Ferdinand Maria and Henriette Adelaide of Savoy to the designs of the Italian architect Agostino Barelli in 1664 after the birth of their son Maximilian II Emanuel. The central pavilion was completed in 1675. Starting in 1701, Max Emanuel, the heir to Bavaria, a sovereign electorate of the Holy Roman Empire, undertook a systematic extension of the palace.

Two pavilions were added each in the south and north of Barelli's palace by Enrico Zucalli and Giovanni Antonio Viscardi. Later, the south section of the palace was further extended to form the court stables. For the sake of balance, the orangery was added to the north. Finally, a grand circle (the Schlossrondell) with Baroque mansions (the so-called Kavaliershäuschen - Cavalier's Lodges) was erected under Max Emanuel's son Holy Roman Emperor Charles VII Albert. Two of the latter's children were born here: Maria Antonia (future Electress of Saxony) in 1724 and Maria Anna Josepha (future Margravine of Baden-Baden) in 1734. Joseph Effner redesigned the facade of the centre pavilion in French Baroque style with pilasters in 1716.

Elector Charles Theodore ordered in 1795 to broaden the galleries to the park side. In 1826 Leo von Klenze removed its gables with the electoral coat of arms and created an attic decoration directly under the roof instead. With the Treaty of Nymphenburg signed in July 1741, Charles Albert allied with France and Spain against Austria. For a long time, the palace was the favourite summer residence of the rulers of Bavaria. King Max I Joseph died there in 1825, and his great-grandson King Ludwig II was born there in 1845.

Within the park, a number of pavilions were built:

The Pagodenburg (1716 - 1719) - an octagonal pavilion with Delft tile decoration downstairs and Chinoiserie upstairs. It was built by Joseph Effner.
The Badenburg (1719 - 1721) - a Baroque pavilion also by Joseph Effner. It contains a grand banqueting hall and a very large tiled bath. Some rooms are decorated with various Chinese wallpapers.
The Magdalenenklause - a faux ruin for retreat and meditation, erected between 1725 and 1728.
The Amalienburg - a Rococo hunting lodge constructed in 1734 - 1739 by François de Cuvilliés for Charles VII and his wife, Maria Amalia, including a hall of mirrors and a kennel room for the hunting dogs. The building with its decoration is a definite masterpiece on the climax of European rococo.
The Apollotemple - a neoclassical monopteros temple by Leo von Klenze, erected in 1862 - 1865.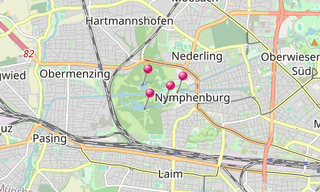 ★ Open the Google Maps link in a new window at the location: Pagodenburg, Nymphenburg Palace, Amalienburg, Badenburg
Photo gallery
136 Photos
Page 3 of 3 / Photos 121 to 136
Click on a picture to view it in full screen mode.
Display captions on images:
★ Don't miss: Most beautiful photos of Germany