Description
Ariccia is a town and comune in the Province of Rome. …
See more …

It is in the Alban Hills of the Lazio region and could be considered an extension of Rome's southeastern suburbs. One of the Castelli Romani towns, Ariccia is located in the regional park known as the "Parco Regionale dei Castelli Romani". There is a connection between the town's name and Aricia, the wife of Hippolytus (Virbius), the Roman forest god who lived in the sacred forests near Aricia. According to a vague reference by Caius Julius Solinus, Ariccia was founded by Archilocus Siculus in very ancient times.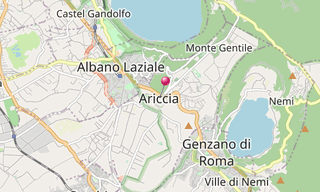 ★ Open the Google Maps link in a new window at the location: Ariccia
Photo gallery
5 Photos
Click on a picture to view it in full screen mode.
Display captions on images: