Description
The Campo Verano (Cimitero Comunale Monumentale Campo Verano) is a cemetery in Rome that was founded in the early 19th century. The cemetery is currently divided into sections: the Jewish cemetery, the Catholic cemetery, and the monument to the victims of the First World War.
The area along the consular road Tiburtina is an ancient place of burial; Indeed in the cemetery lie the catacombs Santa Ciriaca and Saint Laurent is buried there. On his grave was erected a basilica and a convent.
The modern cemetery was built between 1807 and 1812, following the edict of Saint Cloud of 1804, which imposed the graves outside the walls of the city, according to the project of Giuseppe Valadier.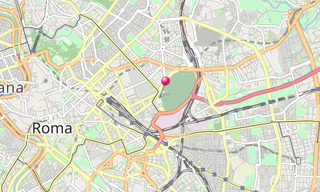 ★ Open the Google Maps link in a new window at the location: Cemetery Campo Verano
Photo gallery
122 Photos
Page 1 of 3 / Photos 1 to 60
Click on a picture to view it in full screen mode.
Display captions on images: