Description
The Fontana della Dea Roma (Fountain of the Goddess Rome) from Igor Mitoraj is located Piazza Monte Grappa. …
See more …

Igor Mitoraj (born 1944) is a Polish artist born in Oederan, Germany. He studied painting at the Krakow School of Art and at the Krakow Academy of Art under Tadeusz Kantor.

After graduating, he had several joint exhibitions, and held his first solo exhibition in 1967 at the Krzysztofory Gallery in Poland. In 1968, he moved to Paris to continue his studies at the National School of Art. Shortly afterwards, he became fascinated by Latin American art and culture, spending a year painting and travelling around Mexico. The experience led him to take up sculpture.

He returned to Paris in 1974 and two years later he held another major solo exhibition at the Gallery La Hune, including some sculptural work. The success of the show persuaded him that he was first and foremost a sculptor. Having previously worked with terracotta and bronze, a trip to Carrara, Italy, in 1979 turned him to using marble as his primary medium and in 1983 he set up a studio in Pietrasanta. In 2006, he created the new bronze doors and a statue of John the Baptist for the basilica of Santa Maria degli Angeli in Rome. In 2003 he returned to Poland.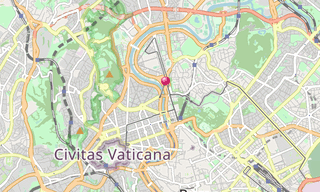 ★ Open the Google Maps link in a new window at the location: Fountain of the Goddess Rome
Photo gallery
12 Photos
Click on a picture to view it in full screen mode.
Display captions on images: