Description
Santi Ambrogio e Carlo al Corso (usually known simply as San Carlo al Corso) is a basilica church in Rome, facing onto the central part of the Via del Corso. …
See more …

The apse of the church faces across the street, the Mausoleum of Augustus on Via di Ripetta. This church is dedicated to Saint Ambrose and Saint Charles Borromeo, both natives of Milan. It is one of at least three churches in Rome dedicated to Borromeo; others include San Carlo ai Catinari and San Carlo alle Quattro Fontane. Its construction was begun in honour of the canonization of St Charles Borromeo in 1610, under the direction of Onorio Longhi and, after his death, of his son Martino Longhi the Younger. The site was that of the former church of San Nicola de Tofo. The ground plan is based on the Latin cross. The dome, resembling that of Santi Luca e Martina, was designed by Pietro da Cortona (1668), who was also responsible for the apse and rich internal decorations. The façade was designed by Cardinal Luigi Alessandro Omodei, who did not like the project prepared by Carlo Rainaldi.

The central vault is frescoed with a Fall of the Rebel Angels (1677 - 1679) by Giacinto Brandi. The altarpiece, depicting the Saints Ambrose and Charles Borromeo with the Virgin and Jesus, was painted around 1685 - 1690 by Carlo Maratta. The stucco decoration was by Giacomo and Cosimo Fancelli. The statue of the saints was by Francesco Cavallini. Frescoes of Justice and Peace were painted by Girolamo Troppa. In the ambulatory behind the sanctuary, is a niche where a reliquary containing the heart of St Charles is kept. It was donated to the church in 1614 by Cardinal Federico Borromeo, a cousin of the saint. The 16th century oratory of St Ambrose is beyond the left transept.

The first chapel on the right is dedicated to the Crucifixion and has a fresco of Vigilance by Paolo Albertoni. The second chapel on the right is dedicated to Mary, Aid of Christians (Maria Auxilium Christianorum) has an image of the Virgin donated by St Vincent Pallotti in the 19th century. The third chapel on the right is dedicated to the Holy Family. On the left side of it is a depiction of The Redemptor and Saints Ambrose and Charles as well as the sepulchral monument of Federico Borromeo. On the exterior, to the sides of the apse and facing the ancient Mausoleum of Augustus, are two giant statues of the titular saints, amongst the largest in Rome.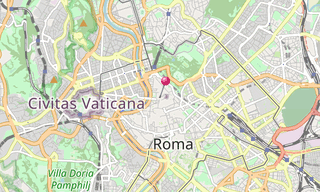 ★ Open the Google Maps link in a new window at the location: Santi Ambrogio e Carlo al Corso