Description
The Trevi Fountain (Fontana di Trevi) is a fountain in the Trevi district in Rome. Standing 26 m high and 20 m wide, it is the largest Baroque fountain in the city and one of the most famous fountains in the world.
In 1629 Pope Urban VIII, finding the earlier fountain insufficiently dramatic, asked Gian Lorenzo Bernini to sketch possible renovations, but when the Pope died, the project was abandoned.
In 1730 Pope Clement XII organised a contest in which Nicola Salvi initially lost to Alessandro Galilei - but due to the outcry in Rome over the fact that a Florentine won, Salvi was awarded the commission anyway.
Show the remaining text …

Work began in 1732, and the fountain was completed in 1762, long after Clement's death, when Pietro Bracci's Oceanus (god of all water) was set in the central niche.

Salvi died in 1751, with his work half-finished, but before he went he made sure a stubborn barber's unsightly sign would not spoil the ensemble, hiding it behind a sculpted vase, called by Romans the asso di coppe, the "Ace of Cups".

The Trevi Fountain was finished in 1762 by Giuseppe Pannini, who substituted the present allegories for planned sculptures of Agrippa and Trivia, the Roman virgin.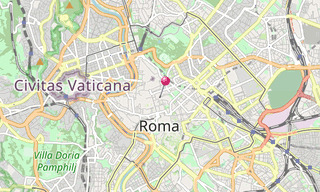 ★ Open the Google Maps link in a new window at the location: Trevi Fountain