Description
Volterra, known to the ancient Etruscans as Velathri, to the Romans as Volaterrae, is a town and municipality in the Tuscany region of Italy. …
See more …

Main sights

Roman Theatre (1st century BC), excavated in the 1950s.
Piazza dei Priori.
Palazzo dei Priori. Begun in 1208 and finished in 1257.
Pinacoteca (Art Gallery) in Palazzo Minucci-Solaini. The Gallery was founded in 1905 and consists mostly of works by Tuscan artists from 14th to 17th centuries. Includes a deposition by Rosso Fiorentino.
Cathedral of Santa Maria Assunta. It was enlarged in the 13th century after an earthquake. It houses a ciborium and some angels by Mino da Fiesole, a notable wood Deposition (1228), a masterwork of Romanesque sculpture and the Sacrament Chapel, with paintings by Santi di Tito, Giovanni Balducci and Agostino Veracini.
Medicean Fortress (Maschio), now a prison housing a noted restaurant.
Guarnacci Etruscan Museum, with thousands of funeral urns dating back to the Hellenistic and Archaic periods. Main attractions are the bronze statuette "Shadow of the Night" and the sculpted effigy of an Etruscan couple in terra cotta.
The Etruscan Walls, including the well-preserved Porta dell'Arco (3rd - 2nd centuries BC) and Porta Diana gates.
Outside the city, in direction of Lajatico, is the Medici Villa di Spedaletto. Also in the neighbourhood, in the Valle Bona area, are excavations of Etruscan tombs.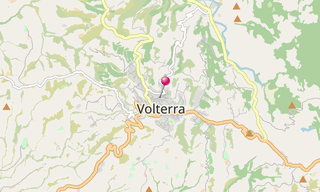 ★ Open the Google Maps link in a new window at the location: Volterra