Description
The Gabriel Creek (Crique Gabriel) is often presented as the most beautiful creeks of French Guiana, but it is overall the nearest one to Cayenne (about 35 km east of Cayenne).
This small creek runs into the Mahury, a few hundred meters from the bridge of Roura. It winds in a beautiful forest forming real green galleries.
The creek leads to a marsh plain and flooded savannah: the Marais Gabriel. At the other end of the flooded savannah, the "Gabriel" rises at the foot of the mountain Gabriel (which is actually a small hill, with its highest point at 276 m), an historic and famous place by its first occupant Gabriel, escaped slave, who died drowned while trying to escape the troop of soldiers sent in pursuit.
This mountain is the separation between the Marais Gabriel and the famous Marais de Kaw to the east.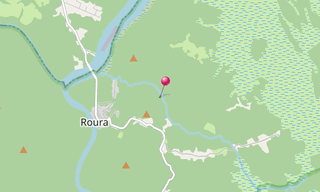 ★ Open the Google Maps link in a new window at the location: Gabriel Creek
Photo gallery
27 Photos
Click on a picture to view it in full screen mode.
Display captions on images: