Description
The Island of the Grand Constable (Île du Grand Connétable) is located 18 km off the mouth of the Approuague in French Guiana. With the Island of Small Constable, it forms the national nature reserve of the Grand Constable Island, managed by the Groupe d'Étude et de Protection des Oiseaux en Guyane (GEPOG) and the Office National de la Chasse et de la Faune Sauvage (ONCFS). From 1893 to 1915, an American company intensely exploited the guano in abundance on the island, which completely transformed his appearance: the original dome has turned into a large circular plateau dominated in its centre by a 50 m high peak. Two bird species disappeared during this time. The Islands of the Grand Constable are remarkable for their bird density. Access to the island is forbidden to the general public in order to preserve the tranquillity of the large number of nesting birds. Six species of seabirds nest there: the Magnificent Frigatebird, the Cayenne Tern, the Royal Tern, the Sooty Terns, the Brown Noddy and the Laughing Gull. These islands are the only sites available to accommodate these species between the Orinoco and the Amazon. This makes it a site of considerable international ecological interest.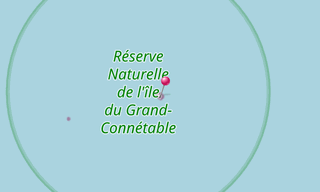 ★ Open the Google Maps link in a new window at the location: Île du Grand Connétable
Photo gallery
32 photos
Click on a picture to view it in full screen mode.