Description
Saint-Laurent-du-Maroni, called simply Saint-Laurent, is a French commune located in the department of French Guiana. In 2010, it was the second most populous municipality in French Guiana after Cayenne.
The prison of Saint-Laurent-du-Maroni or Camp of the Transportation was a penitentiary establishment in French Guiana, which does not exist any more today. This penal colony was the center of the penal colony of French Guiana.
The penal colony was created by the law of August 26, 1792, which provided for the political deportation to Guyana of "non-sworn ecclesiastics" then to ecclesiastics denounced for incivism (law of April 23, 1793) and in 1795 for enemies of the French revolution, but the maritime blockade imposed by England as well as the numerous epidemics which develop there lead to the stop of the application of these measures.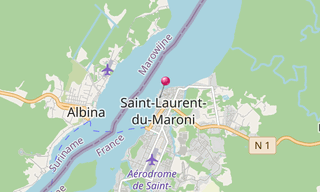 ★ Open the Google Maps link in a new window at the location: Saint Laurent du Maroni
Photo gallery
8 photos
Click on a picture to view it in full screen mode.