Description
Altomonte is a municipality in the province of Cosenza, in the region of Calabria. The city was first called Braal, then Bragalla, Bragallum, Antifluvius until 1343 and finally Altomonte by order of Queen Joan II of Naples. Altomonte was first a stronghold of the powerful Sangineto family, then of the Sanseverino.
The Church of Santa Maria della Consolazione, was built in 1336 on the foundations of an 11th century Norman chapel, by Sangineto, Count of Altomonte.
The facade flanked by two buttress pilasters carries an enormous rose window above the portal. The cloister and the convent were built in the 16th century.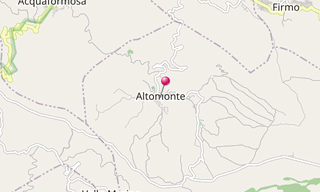 ★ Open the Google Maps link in a new window at the location: Altomonte