Description
Roccantica is an Italian commune in the province of Rieti in the Lazio region. Roccantica is 68 km north of Rome and 35 km southwest of Rieti.
It is located in the High Sabina, the mountainous region between Rieti and the valley of the Tiber. The town center lies on the slope of Monte Pizzuto, which at 1,288 m forms the highest point in the municipality.
Roccantica was first mentioned in 792 as a Fundus Antiquum in a document from the Farfa Abbey, in whose possession it was from 840.
In 1060 the Roccolani successfully defended Pope Nicholas II, who was entrenched in the castle, against the Crescentians. From 1477 to 1728 the place belonged to the noble Odescalchi family.
After that it was directly subordinate to the Holy See. In 1860 it became part of the Kingdom of Italy. It has belonged to the Rieti Province since 1927.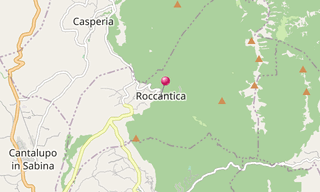 ★ Open the Google Maps link in a new window at the location: Roccantica
Photo gallery
20 Photos
Click on a picture to view it in full screen mode.
Display captions on images: