Description
San Guiliano is an Etruscan centre 2 km north-east of Barbarano Romano. The most important tombs found in the necropolis of Cuccumella del Caiolo are the Tumulus of Caiolo (Tumulo del Caiolo), the Tomb of the Beds (Tomba dei Letti), the Porched Tombs (Tombe a Portico), the Palazzine, the Tomb of the Deer (Tomba del Cervo), the Tomb of the Queen (Tomba della Regina), the Tomb Cima, the Tomb Rosi, the Tomb Costa, the Thansinas Tombs (Tombe Thansinas), the two mounds of Valle Cappellana and the group of ancient tombs in Chiuse Vallerani.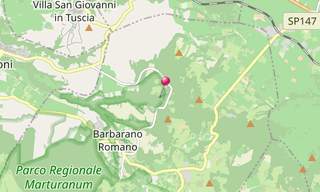 ★ Open the Google Maps link in a new window at the location: San Guiliano
Photo gallery
10 Photos
Click on a picture to view it in full screen mode.
Display captions on images: