Description
Sant Antimo Abbey (Abbazia di Sant'Antimo) is a former Benedictine monastery, now inhabited by Canons Regular, situated in the province of Siena, near Montalcino, Tuscany. …
See more …

Its name refers to Saint Anthimus of Rome, whose relics were moved here during the late 8th century. The origins of the abbey date to a small oratory built here, one the location of a former Roman villa, in 352 at the death of Anthimus. In 715 it was cared by the diocese of Chiusi. In 770 the Lombards commissioned the construction of a Benedictine monastery. In 781, on his trip back from Rome, Charlemagne, gave his imprint to the construction, though the version according to which he was the founder of the abbey is most likely a legend. In 814 a document by Louis the Pious made it an imperial abbey. In 1118 after the donation of Bernardo degli Ardengheschi's heritage, the construction of the new church was started, inspired by the new abbey of Cluny and the church of Vignory.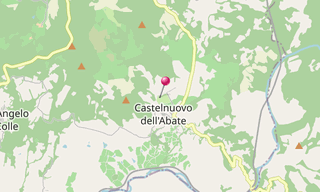 ★ Open the Google Maps link in a new window at the location: Sant'Antimo
Photo gallery
104 Photos
Page 1 of 2 / Photos 1 to 60
Click on a picture to view it in full screen mode.
Display captions on images:
★ Don't miss: Most beautiful photos of Italy