Description
Machu Picchu is a pre-Columbian Inca site located 2,430 m above sea level and situated on a mountain ridge above the Urubamba Valley in Peru, 80 km north-west of Cusco. …
See more …

Built around the year 1460 in the classical Inca style, with polished dry-stone walls, it was abandoned 100 years later.

Most archaeologists believe that Machu Picchu was constructed as an estate for the Inca emperor Pachacuti Inca Yupanqui (Pachacútec) (1438–1472). Often mistakenly referred to as the "Lost City of the Incas", it is the most familiar icon of Inca civilization. The Incas built the estate around 1450 but abandoned it a century later at the time of the Spanish conquest. Although known locally, it was not known to the Spanish during the colonial period and remained unknown to the outside world until American historian Hiram Bingham brought it to international attention in 1911.

Machu Picchu was built in the classical Inca style, with polished dry-stone walls. Its three primary structures are the Intihuatana, the Temple of the Sun, and the Room of the Three Windows.

During its use as a royal estate, it is estimated that about 750 people lived there, with most serving as support staff who lived there permanently. Though the estate belonged to Pachacuti, religious specialists and temporary specialized workers lived there as well, most likely for the ruler's well-being and enjoyment. During the harsher season, staff dropped down to around a hundred servants and a few religious specialists focused on maintenance alone.

Much of the farming done at Machu Picchu was done on its hundreds of man-made terraces. These terraces were a work of considerable engineering, built to ensure good drainage and soil fertility while also protecting the mountain itself from erosion and landslides. Animals are also suspected to have migrated to Machu Picchu as there were several bones found that were not native to the area. Most animal bones found were from llamas and alpacas.

Machu Picchu is situated above a bow of the Urubamba River, which surrounds the site on three sides, where cliffs drop vertically for 450 m to the river at their base. The area is subject to morning mists rising from the river. The location of the city was a military secret, and its deep precipices and steep mountains provided natural defenses. The city sits in a saddle between the two mountains Machu Picchu and Huayna Picchu.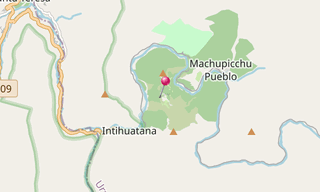 ★ Open the Google Maps link in a new window at the location: Machu Picchu
Photo gallery
94 Photos
Page 1 of 2 / Photos 1 to 60
Click on a picture to view it in full screen mode.
Display captions on images:
★ Don't miss: Most beautiful photos of America