Description
Craco, an abandoned Italian village located in the region of Basilicata and the province of Matera, was called the area "Grachium" which means "from the little ploughed field".
Tombs were found suggesting the settlement dates back to the 8th century. The inhabitants of the town reached 2,590 in 1561. During the middle of the 20th century recurring earthquakes damaged the village and between 1959 and 1972 a series of landslides rendered it uninhabitable.
In 1963, the inhabitants were transferred in a locality called Craco Peschiera in the valley close to Craco. Because of its unique and particular landscape Craco has been the site of many movies, such as "King David"; by Bruce Beresford, "Saving Grace" by Tom Conti, "Nativity" by Catherine Hardwicke, "Quantum of Solace" by Marc Forster and (the most famous of all) "The Passion of The Christ" by Mel Gibson.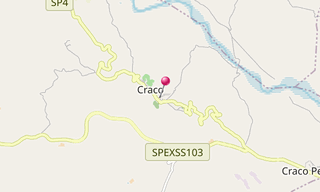 ★ Open the Google Maps link in a new window at the location: Craco
Photo gallery
228 Photos
Page 1 of 4 / Photos 1 to 60
Click on a picture to view it in full screen mode.
Display captions on images:
★ Don't miss: Most beautiful photos of Italy