Description
Venice historically was the capital of the Venetian Republic. …
See more …

The city stretches across 117 small islands in the Venetian Lagoon along the Adriatic Sea in north-east Italy. The saltwater lagoon stretches along the shoreline between the mouths of the Po (south) and the River Piave (north). The name is derived from the ancient people of Veneti that inhabited the region as of 10th century BC. The Republic of Venice was a major maritime power during the Middle Ages and Renaissance, and a staging area for the Crusades, as well as a very important centre of commerce (especially silk, grain and spice trade) and art in the 13th century up to the end of the 17th century. This made Venice a wealthy city throughout most of its history. It is also known for its several important artistic movements, especially the Renaissance period. Venice has played an important role in the history of symphonic and operatic music, and it is the birthplace of Antonio Vivaldi.

The Carnival of Venice is held annually in the city, It lasts for around two weeks and ends on Shrove Tuesday (Carneval of Venice 2007 / Carneval of Venice 2011).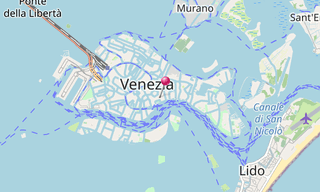 ★ Open the Google Maps link in a new window at the location: Venezia
Photo gallery
121 Photos
Page 1 of 3 / Photos 1 to 60
Click on a picture to view it in full screen mode.
Display captions on images:
★ Don't miss: Most beautiful photos of Italy