Description
Nusfjord is a fishing village on Flakstadøy, one of the main islands of the Lofoten archipelago. …
See more …

The village belongs to Flakstad commune in Fylke, Norway. Nusfjord is located in the south of the island of Flakstadøy, by the Bottelvika Fjord, which flows into the Vestfjord. Towards the countryside, the village is sharply bordered by steep hills. The highest of the surrounding mountains is Tønsåsheia (769 m). Through the town flows from the nearby lake Nervatnet a river down to the fjord.

According to archaeological findings, the area of today's Nusfjord has been inhabited since about 400 AD. Finds of fishermen's huts from this period prove that fishery was apparently already being operated for commercial purposes. In modern times, Nusfjord was owned by the Norwegian Crown. Nusfjord has a natural harbor. Because of the limited space, the village was built among other things on wooden jetties. The historically preserved part of the village consists of red, white and ocher wooden houses, mostly from the 19th century.

The place is considered one of the oldest and best preserved fishing villages in Lofoten. 28 traditional fishermen's huts, called Rorbuer, have been preserved. From February to April, fish are caught (mainly cod), processed on site and dried on wooden racks on the outskirts of the village. In summer, the finished stockfish is sold to Italy, Spain, Portugal and Africa.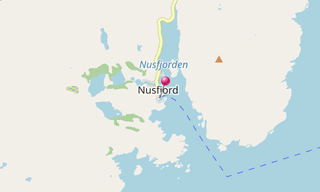 ★ Open the Google Maps link in a new window at the location: Nusfjord