Description
The Amalfi Coast (Costiera Amalfitana), on the south of Naples, extends from Positano in the west to Vietri sul Mare in the east. …
See more …

The towns lying on the Amalfi Coast are:

Positano: The small fishing village (Population 3,900) lies in an enclave with vertiginous slopes to the sea.
Praiano: During the 10th - 11th centuries, Praiano was once the summer residence of the doges of the Duchy of Amalfi.
Furore: Furore expands from sea level, where there is the hamlet of Fiordo di Furore up to Agerola (550 m above sea level)
Conca dei Marini: In the early Middle Ages, it was a trading base of the Republic of Amalfi. In 1543 it was sacked by Turkish pirates.
Amalfi: The town is the largest on the coast (Population 5,500). The Duomo still houses some relics of the apostle Saint Andrew's brought from Constantinople in 1210.
Scala: In the Middle Ages Scala was, together with Ravello, the most important fortification of the Duchy of Amalfi.
Ravello: The Villa Cimbrone and Villa Rufolo provide the best views on this coast. In the latter Richard Wagner was inspired in 1880 for his opera Parsifal.
Minori: An ancient holiday resort of the Roman aristocracy, as evidenced by the discovery of a patrician villa dating back to the 1st century.
Cetara: The village was originally a settlement for a group of armed Muslims in 880.
Vietri sul Mare: The town is known for its polychrome ceramics, a tradition since at least the 15th century, and is considered to be the gateway to the Amalfi Coast.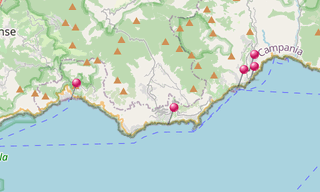 ★ Open the Google Maps link in a new window at the location: Ravello, Atrani, Amalfi, Positano, Furore
Photo gallery
192 Photos
Page 1 of 4 / Photos 1 to 60
Click on a picture to view it in full screen mode.
Display captions on images:
★ Don't miss: Most beautiful photos of Italy