Description
Wettolsheim is a wine-growing town located in the administrative district of Haut-Rhin, 5 km south-west of Colmar, between Wintzenheim and Eguisheim, and extends at the foot of vast hills covered with vineyards.
Dating back to the time of Frankish colonization, Wettolsheim appeared in 1211 under the name "Wetelsheim" and was a double village.
The Bischofsgraben or "bishop's ditch" separated the two halves of the village, one belonging to the bishopric of Strasbourg, and the other to the "Horbourgs".
In 1319, the latter sold their share to Murbach Abbey.
Show the remaining text …

Château de Haut-Eguisheim (Three castles of Husseren-les-Châteaux)

Haut-Eguisheim castle is a castral site located on the territory of the municipalities of Eguisheim and Husseren-les-Châteaux. The first castle, built at the beginning of the 11th century, was gradually subdivided, giving rise to the castles of Dagsbourg, Wahlenburg and Weckmund, hence the name of "Three Castles" often given to the site.

The castles are established at an altitude of 500 m, on a sandstone plateau located at the eastern end of the Schlossberg mountain.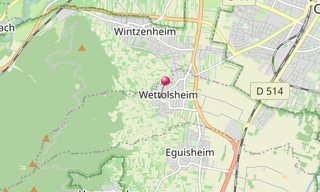 ★ Open the Google Maps link in a new window at the location: Wettolsheim
Photo gallery
19 Photos
Click on a picture to view it in full screen mode.
Display captions on images: